*Février*
La Saint-Valentin - Interactive Google Slide with Bitmoji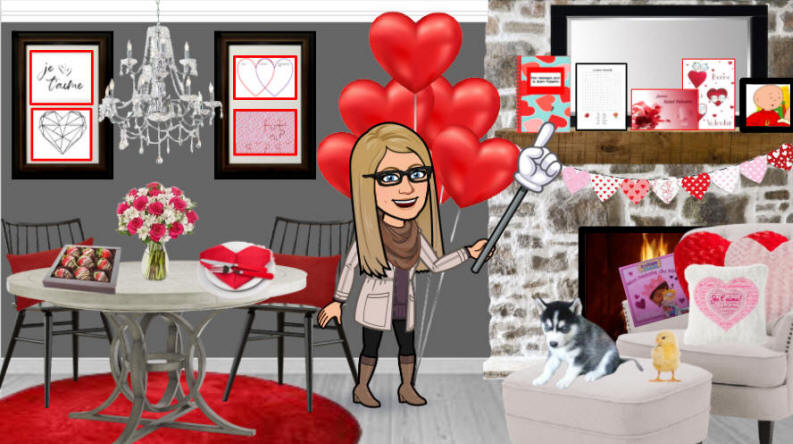 Click here or on the image above to make a copy of this Valentine's Day themed room for FSL. It includes 20 integrated links to a variety of materials (videos, Quizlet, prepared tasks in Google Docs, Google Slides, Google Form, etc...). This room uses the theme of "la Saint-Valentin," but would also work under the themes of friendship and appreciation. You will find materials on the verb "Aimer" and on terms of endearment in French. You will also find some fun hands-on craft videos. If you are looking for a creative way to do Valentine's cards with your virtual classes, there are a few options provided in the notes and templates ready for you to use!

Once you make a copy of the Google Slides document, read the notes below the slide. They will tell you where to find all of the hidden links. You will find additional links in the notes and also suggestions on how you could use some of the materials.

When in Present mode, you can easily scroll over the images with the cursor and click on images that are linked. You could even use this "room" as a treasure hunt for your students:)

Note: Once you make a copy of this room, you can edit it to suit your own students (age, level). I recommend that you add your own avatar to personalize it:) I have used Bitmoji.
*Please do not copy and post this Google Slides room on other websites (e.g.. TPT) or digital groups (e.g., Facebook). Please feel free instead to share a link to FrenchResources.ca to direct others to access this resource here. In this time, it is important to share among teachers, so please do share this site so others may benefit. Please do use these materials for your own students and post so that they can access it.